Resources
Required information to appear for Yoga Examination

YCB (Yoga Certification Board)
YCB (Yoga Certification Board) is formed by Ministry of AYUSH, Govt. of India. They conduct and manage all Yoga Certification exams in India. 
Yoga Certification Board was set up in March, 2018; started functioning from June, 2018
Under aegis of Morarji Desai National Institute of Yoga, Ministry of AYUSH, GoI
Complete functional autonomy
Secretary, Ministry of AYUSH – Chairperson of  Yoga Certification Board
Joint Secretary, Ministry of AYUSH – Vice Chairperson of Yoga Certification Board
Representation from Ministry of Health & Family Welfare, Ministry of Human Resource Development
Representation of Accreditation expert, Legal expert and Yoga experts
Secretariat of the Board- Headed by CEO, Yoga Certification Board, who is also Dircetor, MDNIY
Four Committees with defined role constituted for smooth functioning Yoga Certification Board
Committees are headed by eminent Yoga Gurus/ Academician
Books and Products recommended
If you want to register for an exam in one step, click on this button —>, PQMS will help you to register on YCB site and an Online exam also can be scheduled. If you want to do all steps on your own and choose another Agency then follow the steps below.
Step 1
Step 1: When you are finished with your course and revision, register with YCB to appear the exam (minimum 15 days before exam). Link to Register => Register with YCB
Select option "Yoga Professional Enrollment"
Fill the given form with details asked. Keep your Govt. Photo ID and Photograph scanned in .jpeg, .jpg or .png format. Maximum file size allowed for Govt. ID is 2 MB and Photograpg 100 KB, so keep it ready accordingly.
Govt. Photo ID includes (Aadhar Card / Voter ID / Driving License / Passport / Pan Card / Govt.Employee ID Proof) 
You will be creating username (give your email ID) and password for YCB, which you be using to access website later, hence choose the username (email ID, you use/check regularly) and password which you can remember or note it down at safe place where nobody except you can access.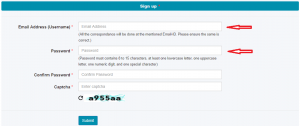 Fill other remaining information after submit (Complete all steps).
Pay registration Fee.
Step 2
Step 2: When you are finished with your YCB registration, please cross check by login in again. Link to Login=> Login on YCB website
Check Exam Calender and choose exam (15-20 days in advance). Link to check Exam Calender => Exam Calender
Choose the right exam, check with your institue for the agency to conducting the exam, as there are many agencies conduct exams area wise and online.
Pay Exam fees to that agency once you receive confirmation from YCB on registration and Agency for payment link.
Step 3
Step 3: You will receive a Admit card from your Agency (where you booked the exam), cross check the date and time you have chosen, your name is correct, photo on card, center if exam is in person, language of question paper, Exam Level etc. Also, there will be contact information of the coordinator, who can help you before exam if you have any queries about the Admit card or center.
Keep hard copy / print of Admit card with you and show whenever is asked for.
Keep Govt. photo ID Hard copy/print also to verify (Adhar Card, Driving Lic., Passport)
If exam is online, them may ask you to show above IDs on Camera
If you are giving exam at center they will check above documents.
System requirement and instructions for Exam
System Requirement for Online Exam: 
1. Personal Laptop or Desktop computer in working condition with good quality Camera (you can use Windows (7 and above))
2. Internet Connection of at least 1mbps
3. Latest version of Google Chrome Internet Browser (pre-installed)
4. Test your computer or laptop before the Exam to ensure that it is working well, processing speed is good, and camera is working perfectly.
(NOTE: You may not be able to appear for exam if web camera attached with your system is not functional).
Exam Instructions:
1. Your exam activity would be streamed and a Proctor/observer would keep a track on it. 
2. Keep your Photo ID with you ready to display.
3. Monitoring will be real-time and your exam may get terminated if you try to open any other window in your computer during exam process.
4. Question navigation is on.
5, You will receive link along with User ID and Password to appear for the theory exam .  Please open the link 30 mins before start of exam and complete the formalities such as displaying your Government ID Proof (Aadhar Card / Voter ID / Driving License / Passport / Pan Card / Govt.Employee ID Proof) and capturing your photo etc.
Instructions for Online Practical Exam: 
You are requested to place yoga mat at least 5 feet away from the webcam in horizontal position with sufficient lighting and no light in the background

.

Please ensure that your laptop is fully charged before attending the practical exam

Please do not join through mobile

Keep props handy (Yoga Belt, Pilow, Water, Cotton Blanket etc.) required for Yoga poses

Do not leave the area in between (do not go out of webcam focus) while exam in progress
Become a Member and Get Benefited
Lots of other resources like, videos, blogs, Mock Tests, Guidance from experts and much more…